SPOTLIGHT: 29 March, 2007
Sitting on Mae West's Lips

with Shophound Alexia .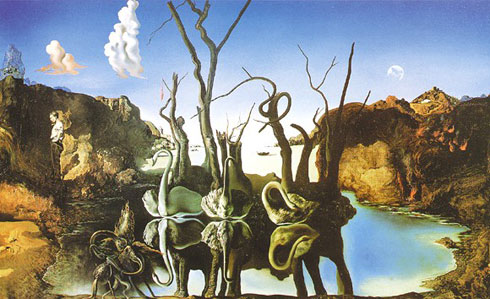 One of Dali's haunting visions on canvas


ver since visiting Salvador Dali at his Cadaques home in Spain as a young writer in the 1970s, I have been enthralled by Surrealism and the Movement which he personified in his work and lifestyle. "Are you beautiful?" he had asked me when I telephoned him at his Port Lligat home for an appointment. My reply must have satisfied his artistic sensibilities because I found myself joining a motley assortment of admirers on his terrace that balmy evening and sipping champagne to a throbbing background of Spanish guitar music, before stripping off, (at the Maestro's invitation), for a skinnydip in his phallic-shaped swimming pool.

Venue: Victoria and Albert Museum. Cromwell Road, SW7.
Date: 29 March - 22 July, 2007.
Tickets: £10.40, (Concessions). Book online or pay at the door. Free to V&A members.
London Transport: Nearest Tube: South Kensington.

Burlington Bertie's Accommodation Choice: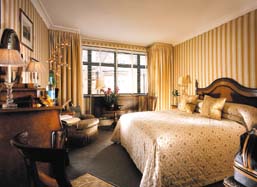 22 Basil Street, SW3 1AT
Five Star luxury with ensuite bedrooms, Suites, Serviced Apartments, Bar and Two starred Michelin Restaurant of note.
Burlington Bertie's Verdict One of London's top luxury boutique hotels situated off Upper Sloane Street in Knightsbridge, this family owned hotel exudes quiet Edwardian elegance. Along with its smaller sister L'Hotel at 28 Basil Street,, the Capital Hotel attracts a discerning and devoted clientele. The 2 starred Michelin restaurant offers superlative food and 'own vineyard' wines, with a popularly priced 3 course luncheon menu. Relax after Knightsbridge shopping over afternoon tea in the hotel's comfortable sitting room.




Find Another Hotel

I look forward therefore to visiting the Victoria and Albert Museum's new exhibition Surreal Things: Surrealism and Design opening 29 March, where some of Dali's work is on display. "I try to create fantastic things, magical things, things like in a dream", Salvador Dali once said. His words aptly describe this exhibition which explores Surrealism from its early beginnings in the 1920s to the present day. The interest in this opulently staged exhibition lies not so much in the exploration of Surrealism by Dali and others in painting and sculpture however, but in the immense and lasting impact the Surrealist have have had upon our daily life through their influence on the creative worlds of fashion, jewellery, interior design, film, theatre, architecture and advertising. Dali, Klee, Chagall, Magritte and others opened our eyes to new visual perspectives, inviting us to unleash our imaginations into a dreamlike Freudian otherworld where the sky was the start, not the limit.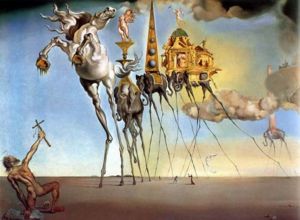 Temptation of St. Anthony. Courtesy Musee d'Art Moderne, Brussels

Many of the rarely-seen works and artefacts in this exhibition are now iconic, but they doubtless shocked, disturbed or bemused our grandparents when the Surrealists first invited them to leap those sensual and artistic boundaries imposed by custom, education and perceived good taste to indulge in the turbulent fantasies of the subconscious.

We can be sure that this exhibition will inspire a new generation of fashion and stylemakers, though they and we are unlikely to be shocked in this day and age. I see that Agent Provocateur, my favourite lingerie shop, is celebrating Surreal Things with a typically traffic-stopping surreal window display of elegant deshabille at its 16 Pont Street shop in nearby Knightsbridge. Dali would have approved.

Does Dali's Mae West Lips sofa still disturb or excite with its overt sensuality? Is the illogicality of his Lobster telephone still surprising? Visit the V & A and see for yourself!

OfftoLondon Links
London Shopping Shophound' Alexia's round-up of West End department stores and specialty shops.
Lingerie shopping for surreal nights. Where and what to buy for a night of spring romance.
Off to Paris Weekend breaks via Eurostar. Day and Discovery tours, Shows and hotels. Book online





© 2007 offtolondon.com All rights reserved. Contact Us