SPOTLIGHT: 8 May, 2007
English Asparagus and Scotch Salmon for London Dining

with Shophound Alexia .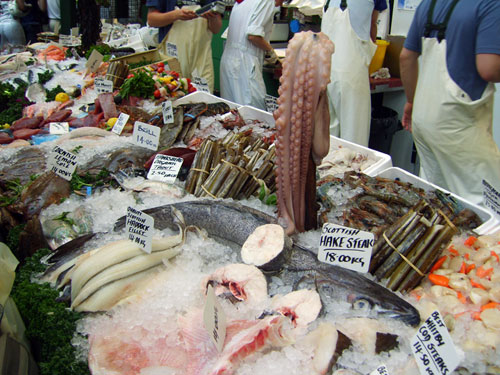 Borough Market. Photo by Angus MacWatt.


ay and June are months to be savoured by us lovers of English asparagus. Those freshly cut luscious green spears are now a feature on the menu of my favourite London restaurants and can also be bought at the famed Borough Market at London Bridge, Southwark; the Saturday food market stall in Chelsea and Pimlico Road Farmers' Market and from the barrows of the picturesque Soho and Fulham street markets.

England's green asparagus season runs from 15 April to 30 June, but is at its luscious best from mid-May, while the old asparagus is tastiest from mid June. If you are lucky enough to find English asparagus, go for a three year old male crown.

Venue: London Bridge, Southwark.
Dates: Retail: Weekly, Thursday-Saturday, 2007.
Access: Free.
Thursdays: 11am to 5pm.
Fridays: 12pm to 6pm.
Saturdays: 9am - 4pm.
London Transport: Nearest Tube: London Bridge Station.
Description: England's most important retail market for fine foods, quality meats, fruit, vegetables and specialities from all over the world, Borough Market recently celebrated 250 years of trading on this site, though the Market itself has a 2000 year history dating back to Roman London. Whether you come to buy or merely to look, a visit to this fascinating and colourful market is a part of the London Experience.

Burlington Bertie's Accommodation Choice: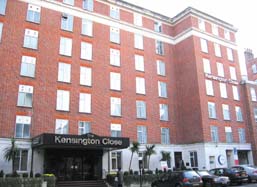 This centrally located hotel offers 4-star comfort at a 3-star price with the bonus facilities of swimming pool, gym and private garden with fountain. Situated in Kensington, close to attractions such as Kensington Palace, Royal Albert Hall and Olympia's summer Antiques and Fine Art Fair, this modern hotel is just a short ride from Knightsbridge, Chelsea and West End's Theatreland, making it a popular choice for both vacation and business patrons. All rooms are en-suite and full air conditioning ensures relaxed comfort during summer heat. Car parking available at extra charge.



Find Another Hotel

Having simmered the crowns in slightly salted water, anoint with hot melted butter and enjoy with a glass of chilled white wine, from an English vineyard for a change, perhaps! Burlington Bertie waxes poetic about Wickham Vineyard in Hampshire, which a chum who is a Member of Parliament brought to his notice recently. He tells me that the Member's Restaurant in the Palace of Westminster serves a very potable Wickham White as its 'House wine'.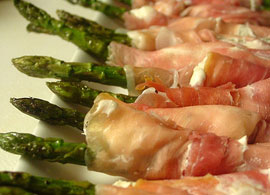 London gourmet purists throw their hands up in horror at the 'continental' habit of covering asparagus with a sauce hollandaise, though they concede that the French asparagus, (which is purple, as opposed to the English, German and American varieties which are green or white), may need 'tarting up' to disguise its 'inferiority'. This is unkind to the French asparagus growers and to the delicious wild French asparagus which can be found in the Paris markets at this time of year. I like to prepare and serve asparagus wrapped in thin slices of smoked ham (Italian Prosciutto is perfect) and crepes, and covered with a sauce hollandaise. A chilled bottle of Wickham's Special Release Fumé. flirts nicely with this. I have pencilled a day out in my diary to visit the vineyard during English Wine week, (28 May-3 June).
Wild salmon caught in Scotland is also now available in some London restaurants as the salmon fishing season gets into its stride in the Highlands. Ultimate lunchtime bliss: Scotch salmon lightly poached in a little white wine, served with English asparagus and minted New Potatoes. Prism has both asparagus and Scotch salmon at its City of London restaurant in the impressive environs of the former Bank of New York building in Leadenhall Street and its Harvey Nichols Fifth Floor Restaurant in Knightsbridge.
Related Outside Links
Wickham Vineyard & Restaurant Hampshire. Open daily. English Wine week, 28 May-3 June.
Partridge's Food Market, Chelsea Duke of York Square, King's Road. Chelsea. Saturdays.
Pimlico Road Farmers' Market Orange Square, SW1. saturday mornings.
Borough Market London Bridge, Southwark. Thursday-Saturday.
Harvey Nichols Fifth Floor & Prism Restaurants Knightsbridge.
© 2007 offtolondon.com All rights reserved. Contact Us