1 September, 2011


2011 London Mayor's Thames Festival

by Burlington Bertie and Shophound Alexia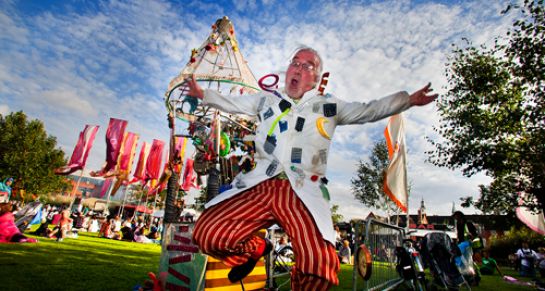 Venue: Southbank between Westminster and Tower Bridges.
Date: Saturday 10 - Sunday 11 September 2011. 12 noon-10pm.
Access: FREE.
London Transport Nearest Tubes: Westminster, Embankment, Temple, Blackfriars ,(North bank); Southwark, (South Bank).

The Mayor's Thames Festival has become a spectacular annual feature of Free London Diary as well as London's largest outdoor arts festival. It completely takes over the river's south bank, foreshore and neighbouring walkways from Westminster Bridge, (Houses of Parliament), to Tower Bridge, (Tower of London).

Festival Events

Expect a fabulous free weekend of arts, spectacle and entertainment; a heady mixture of music, dancing, street arts, river races, carnival, pyrotechnics, art installations, massed children's choir, ethnic Food Market and feasting. The Sunday finale is a magical illuminated Night Carnival that winds along both the south and north banks of the Thames, followed by a fireworks display fired from the centre of the river itself.

Check out the Mayor's Festival Highlightsfor a complete list of events, music, outdoor theatre and carnival. Highlights include a Festival Market, (both days); the Thames Parade of over 100 working, recreational and historic boats, (Saturday); Sunday's Night Carnival and the spectacular closing Fireworks Display, (9.45pm). The 2000 Carnival dancers will be led by the famed Taiko Drummers from Japan who provide a dramatic rhythmic crescendo of sound.

The fireworks finale from Oxo Tower wharf is best viewed from the Victoria Embankment across the river from Southbank, (nearest Tube: Temple), unless you choose to take a front row seat and dine at Oxo Tower.

Festival Dining at the Oxo Tower

Yakitori A taste of Japanese cooking is perhaps appropriate, given the presence of the Taiko Drummers in Sunday's Carnival Parade.
Oxo Tower Brasserie and Restaurant Lunch or dine in style with a rooftop panoramic view of London's skyline and the pyrotechnic display on Sunday evening.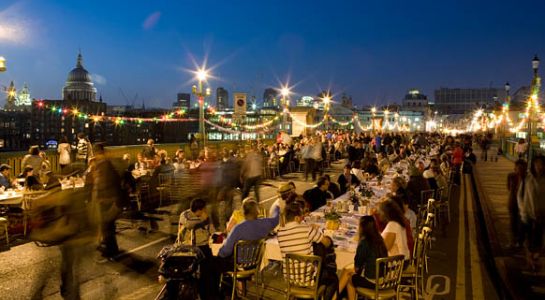 Feast on the Bridge

Southwark Bridge. From midday until 10pm, Saturday, 10 September, Southwark Bridge becomes a giant open air banqueting place and bandstand, with a fish menu. £10 will buy you a delicious two course meal.

Make a reservation at all suggested dining venues during the festival to ensure your table.