Our Favourite UK Themed Slot Machine Games

People in London and all over UK enjoying playing slot games, or fruities as they're called in the UK, on their computers and mobile devices. Nowadays playing slots is a lot easier and much more convenient, as you can do it while relaxing at home, or even when commuting to work. There's a vast range of mobile casinos available in the UK, check out those featured at Mobile Casino Safari , as this website has listed all the top mobile casinos in the country. The popularity of online casinos and of online slots as the most popular category of games has inspired software developers to create a number of thrilling and exciting games. Themed slots are the most popular type of slot games nowadays. Games can have various themes - game shows, TV series, popular myths legends and stories, films, historic events and many more. Knowing that slots are very popular in the UK, but also that UK and London are very popular tourist destinations for people from all over the world, a range of different UK themed slots have been created.

Big Ben

Big Ben is the first association for London and the UK as a whole for many people. It is definitely the most popular clock in the world, and Londoners take great pride in it. If you have been to London and yet haven't taken a photo in front of Big Ben, it's like you've never been to London at all. Bearing in mind how popular Big Ben is, it is hardly surprising that there's a slot gamed based on it. This slot was developed by Aristocrat. It has 5-reels and 25 pay-lines and it can be played with as little as 1p per spin, or a total minimum amount of 25p. But, you can also play with as much as two quid per line, or a total of £50. The symbols are uniquely British and they include The Union Jack, the iconic red phone booths and of course the famous Beefeaters.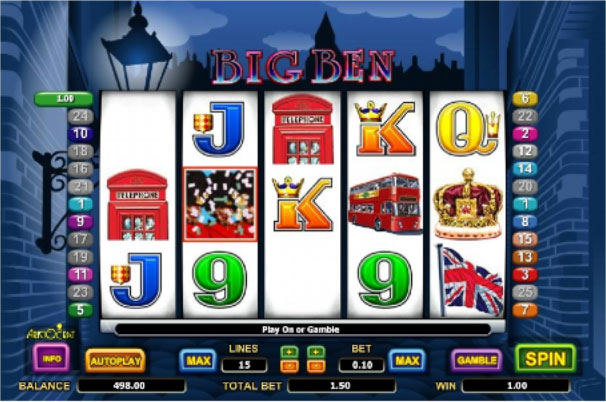 Love from London

London is not considered the cultural and financial capital of the world without a reason. Millions of people each day visit the city upon Thames and are mesmerised by its beauties. Love from London is a slot game which celebrates UK's glorious capital. Developed by Random Logic, these game features some of London's most popular landmarks as symbols, including the House of Parliament, Piccadilly Circus, a red bus, a black cab and the London eye. Even the background, the surface on which the reels are placed represents London. The game has a Free Spins bonus feature.

Little Britain

Loved by Brits and foreigners alike, Little Britain is one of the most popular UK comedy series ever. The series shows a fun, somewhat bizarre and very quirky side of Britain and her people. The series won two BAFTA awards as well as several British Comedy awards. The slot game features all regular characters such as Vicky Pollard, Lou, Emily, and Dafydd as symbols. It is a 5-reel game with 30 pay-lines that was developed by Ash Gaming. The sound effects are taken from the original series and the slot is even narrated by Tom Baker.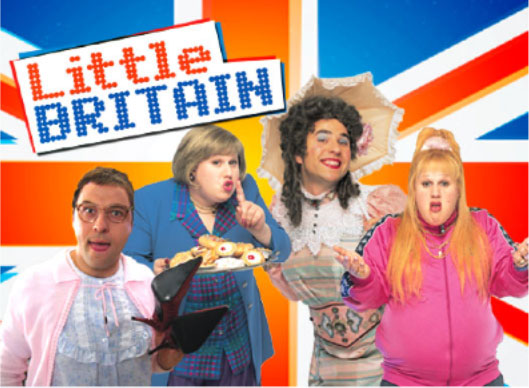 Britain's Got Talent

Some love him, others despise him, but nobody is left unmoved by Simon Cowell and his strictness. Yes, it is Simon Cowell, the producer of Britain's Got Talent, one of the most popular talent shows in the country. You have surely heard of it by now. The slot is obviously based on the show and it has 5 reels and 20 pay-lines. The inevitable Union Jack is the background on which the reels are placed and the wild symbol is also a spinning Union Jack. The symbols include jugglers, dancers and singers. This game was developed by Playtech and definitely is one of the most popular UK-themed slots.

Madness House of Fun

'Our house, in the middle of our street' - is a song-verse that is sung throughout the UK and the globe by millions of people. Madness are truly one of the most popular bands of the 80s, not only in the UK. Madness House of Fun is a slot game that uses this iconic British pop band as its theme. The game includes 8 original Madness songs and several unique bonus levels. The game has 5 reels and 25 pay-lines and it can be played with as little as one penny per line, but also as much as £10, or a total of £250. It was developed by Ash Gaming.